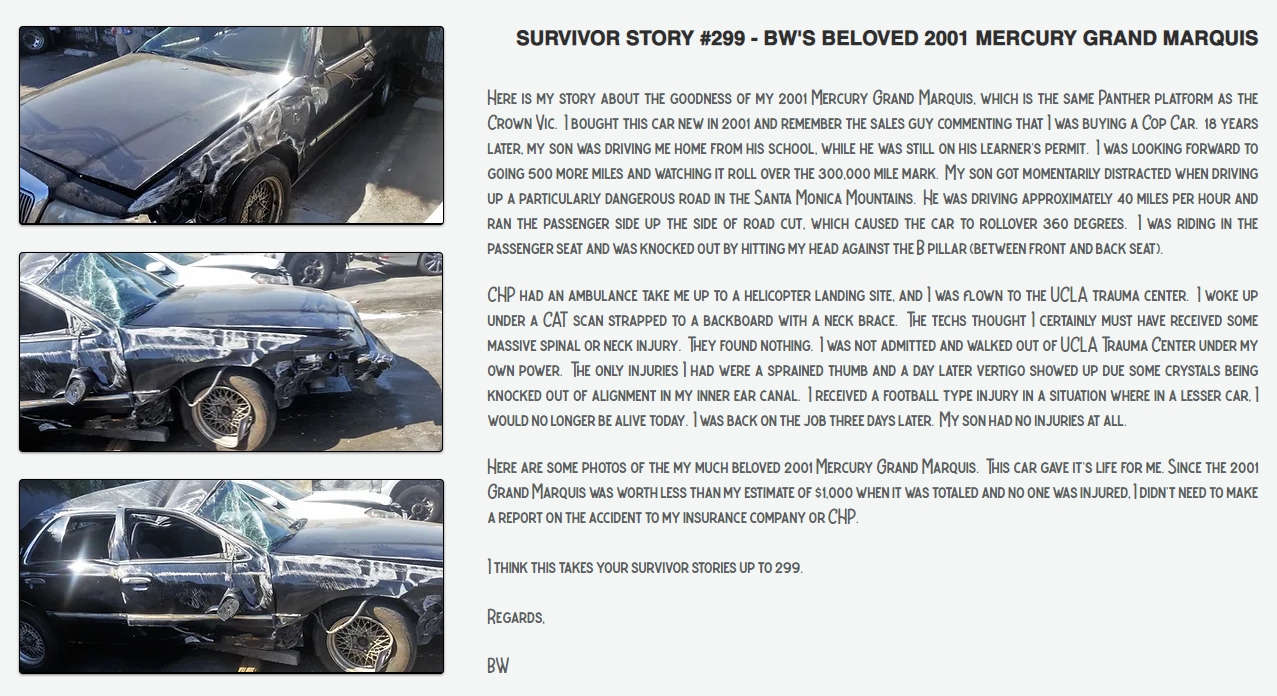 Chasidah Fried's Testimonal
I dont know where to begin, the quality of care and the work done ? The level of quality work that Wild Rose has done in the refurbishing of my car. I am not just a satisfied customer , I am extremely grateful to have found Seton and shipped my car from Texas to California for honest and reliable car care. The only regret that I have is that Wild Rose isn''t here in Texas but now that I know that Wild Rose is the absolute best place to have my car cared for, I will definitely return when and as necessary. Seton went above and beyond anything that I have ever experienced in the course of my car care and am recommending Wild Rose as highly as is possible to anyone who cares about authentic quality car care at affordable prices.
Spanish
No sé por dónde empezar, la calidad de la atención y el trabajo realizado . El nivel de trabajo de calidad que Wild Rose ha realizado en la renovación de mi automóvil. No solo soy un cliente satisfecho, estoy extremadamente agradecido de haber encontrado Seton y haber enviado mi automóvil de Texas a California para un cuidado honesto y confiable del automóvil. Lo único que lamento es que Wild Rose no está aquí en Texas, pero ahora que sé que Wild Rose es el mejor lugar para cuidar mi automóvil, definitivamente regresaré cuando sea necesario. Seton fue más allá de todo lo que he experimentado en el curso del cuidado de mi automóvil y recomiendo Wild Rose lo más posible a cualquiera que se preocupe por el cuidado auténtico de un automóvil de calidad a precios asequibles.
Russian

German
Ich weiß nicht, wo ich anfangen soll, die Qualität der Pflege und die geleistete Arbeit ? Das Niveau der Qualitätsarbeit, die Wild Rose bei der Renovierung meines Autos geleistet hat. Ich bin nicht nur ein zufriedener Kunde, ich bin sehr dankbar, Seton gefunden und mein Auto für eine ehrliche und zuverlässige Autopflege von Texas nach Kalifornien verschifft zu haben. Das einzige Bedauern, das ich habe, ist, dass Wild Rose nicht hier in Texas ist, aber jetzt, da ich weiß, dass Wild Rose der absolut beste Ort ist, um mein Auto pflegen zu lassen, werde ich auf jeden Fall zurückkehren, wann und wie nötig. Seton hat alles übertroffen, was ich jemals im Laufe meiner Autopflege erlebt habe, und empfehle Wild Rose so gut wie möglich jedem, der sich für authentische Autopflege zu erschwinglichen Preisen interessiert.
Testimonial from Jim Fitzgerald

2002 Crown Victoria LX-Sport

I have owned this car since new. in this day and age of mostly all FWD vehicles on the road, trying to find someone who knows how to work on my great Vic was an issue for me. Since the car is now over 20 years old, many parts of the front-end suspension and a few other items needed to be refurbished. When I found out about Wild Rose Motors, I contacted Seton and sure was glad I did. It was great to speak w/someone who knew these cars as well as I do!
(and he's a really cool guy to talk to, so many great stories of his history w/ Vics).

I finally was able to get my LX-Sport (mostly all original) down to his shop. They took care of all my concerns and gave back to me what I now call my brand new 2002 LX-Sport! Driving the car now takes me back to Dec. 2001 when I got her from Fritts Ford in Riverside CA. She's like new again! Great job you guys at Wild Rose! Thanks so much, will always keep you in mind if the need ever arises again!

Jim F.

Ontario, California.
Wendy & Wyatt's Testimonial

After searching for months in Las Vegas for a strong safe vehicle for my 16 year old, with no luck I came across Wild Rose Motors in Anaheim and after one conversation with the owner I knew that we were going to be taken care of. Me and my 16-year-old son planned a short flight out to Anaheim to go pick his favorite one from the lot. Our buying experience was the absolute best purchase experience I have ever had and my son had the time of his life test driving Crown Victoria Police Interceptors to find the perfect fit for him. After finding the best crown Victoria on the lot we quickly closed the deal and started our trip back to Las Vegas.

I was a little hesitant about buying an old police car with 100,000 miles on it but this car drove like a dream and has been so well maintained that the drive home from California to Las Vegas was a true pleasurable experience. As a single mom with a new 16-year-old driver I know that wild Rose motors has provided my son with the safest most secure and well-maintained vehicle I could ask for and every day when he jumps in the car and drives away I know that my son is in the most safest vehicle I could find. Thanks to Wild Rose Motors this mama has peace of mind and an amazing vehicle for her son for years to come!!!

Thank you Seton!!!!

♥♥♥
A Happy Father & a Happy Daughter

"HONESTY..INTEGRITY..RESPECT..EXCEPTIONAL CUSTOMER SERVICE. These are the words that come to mind and best describe our recent experience with Wild Rose motors and Seton. Thank you for the exceptional customer service provided on July 2nd when my daughter and I first stepped foot onto Wild Rose 911 looking for a car for my daughter.. No pushy sales person...No pressure...No gimmicks on pricing. Just a great Home-Grown business atmosphere where a hand shake, delightful conversation and making friends and family still exists and means something, and pride in ownership is apparent and demonstrated.

We would like to express our gratitude to Seton for going the extra mile and ensuring that everything was right with our 2011 Police interceptor. Which we are really enjoying! We will definitely tell a friend, and so on and so on. No need for big expensive advertising, your reputation speaks for itself. First class bar! We will definitely be back for our next purchase! We were very impressed with the personal level of service received.

This is a great dealership, I worked with Seton who did something no other sales guy has done for me. He listened to what I had to say and made the experience great. He got my daughter into a police interceptor of her dreams for less than other dealerships were trying to get her into a used car. If you go to this dealership to ask for Seton, he worked really hard to get my deal going. If you have concerns, mention them. He will go above and beyond to make sure everything goes smoothly for you!

Thanks Seton

There were no sales tactics or pressure associated to our car purchasing experience
Philippe Emami's Beloved Crown Vic

Dear Seton, I would like to take this opportunity to thank you and your amazing team for such an awesome job you did on my full black 2011 Crown Vic. I made my dream come true with this purchase at Wild Rose Motors in October 2020 and I not only met a team, but I also realized how devoted you guys are toward me and all of your customers.

I simply call this a Family.

I want you to know that if I (or anyone of my family) need any other vehicles I will contact you first and see what you have available. Also talked about you to my contacts and friends even up to France and Germany. You are famous in Europe too !!! I would recommend your company to all my car lover contacts. Again thanks for the great professional service you and your staff provided to me.

Thanks to you dear Seton and see you soon my friend !!!

Philippe E from San Francisco area CA.
Crown Vic Saves Shawn's life

Shawn was driving down the 5 freeway when traffic suddenly came to a stop. A full sized truck rear ended him at freeway speed because the truck driver didn't realize traffic had stopped.

His Crown Vic was totalled but Shawn was pretty much uninjured thanks to his big, strong, full framed car - a Ford Crown Victoria Police Interceptor
Victor and Shawn are very smart people because they were in the right car at the right time. The Crown Victoria's have a crash test of 75 MPH and they are the strongest vehicle you can buy that will keep you safe.
TRod's Story

TRod had a big gas guzzling truck that he was using to commute to work and home, back and forth. He wanted to stay in a safe reliable car. He came to Wild Rose Motors wanting to buy a Crown Victoria Police Interceptor because he did his research and found out how safe and durable they are.
When he came in with his friend to pick up the vehicle, his friend said he wanted one now too!
We supplied him a new push bar and he sent us a picture after he installed it himself.
Regarding Seton and the Wild Rose Team,

Thank you, thank you, thank you for providing me with the best car buying experience I've had so far. Seton was very knowledgeable, friendly and kind throughout the entire car buying process. My friend and I just dropped in unannounced one Saturday morning, and Seton was more than willing to show us the cars that he had in stock. He also shared with us how his company operates, their vision and their purpose, which is to provide his customers with the best possible P71s, with excellent customer service and dependable vehicle support. I could really hear the passion in Seton's voice as he showed us his cars, and you can tell that to him these cars are not just inventory that he wants to push out the door, for as much cash as he can get. These cars represent his work and his passion; these are his babies! Seton is basically a P71 minister, burning with desire to spread the P71 gospel to the entire world (can I get an "Amen").

Let me first state that I am not a car guy. I only know the basic rudiments of owning and operating a car. I know nothing about engine stuff, or transmissions, or performance KPls, but I knew that I wanted a car that is Americana, built like a tank, reliable to hell and back, and has a certain cool factor/ je ne sais quoi. The immediate answer was the Crown Victoria P71. I did a lot of research on the P71: the pros and cons, what to watch out for, what qualities are desirable and most importantly where to get a P71 at a great price!

I looked at 3 other Crown Victorias before coming to Wild Rose. The first two were P71s listed at local car dealerships. They both looked good online, but in person I could see that they were in horrible condition: one had a chipped wind shield, there were engine knocks, one had to be jump started so I can test drive it, another had interior panels missing, and for both these cars the dealerships wanted $5,000 cash!! The third car I looked at was a P74. It was priced really low, and it had reasonable miles, but one quarter panel had peeling paint, the HVAC blend door actuator was busted so the car was only blowing hot air, and the handling was awkward. I saw other P71 options, but they were either beyond my budget, or too far, or had questionable Car Fax profiles.

That left Wild Rose. The main factor that made me initially hesitate about getting a P71 from Wild Rose was that the Wild Rose P71s I wanted were beyond my budget. On this issue of cost, Wild Rose was willing to work with me to find a P71 that was comfortable fit with my budget. They also have in-house financing, to help out guys like me who do not have money trees growing on their apartment balconies.

Other factors made me feel comfortable about getting a P71 from Wild Rose:

This is all they do! They specialize in P71s! It's like choosing between a surgeon who does 100 types of surgeries, or a surgeon who specializes in that one, specific surgery that you need.

They have access to multiple cars and car parts, so I know where to go in case I want to add options (like a push bumper, unless if by some miracle Seton decides to throw in a push bumper for free *wink *wink).

They have multiple Yelp reviews and testimonials speaking about their reliability.


So I went with Wild Rose. I am now a proud owner of a black, 2008 P71. She is solid, she is powerful, and she handles like a dream. These P71s are war horses that will keep marching on 'til the end. I even ordered an engraved license plate frame to proudly show that I got my P71 at Wild Rose Motors!

At the end of the day, I can confidently expect Wild Rose and Seton to provide me with REASONABLE ASSURANCE: based on what they saw on the car, based on their experience, and based on their informed opinion, can they give me REASONABLE ASSURANCE that my P71 will be a good reliable car? I think the answer is YES. And in case I am wrong? I'm not worried.

Kind regards, Jon Constantine.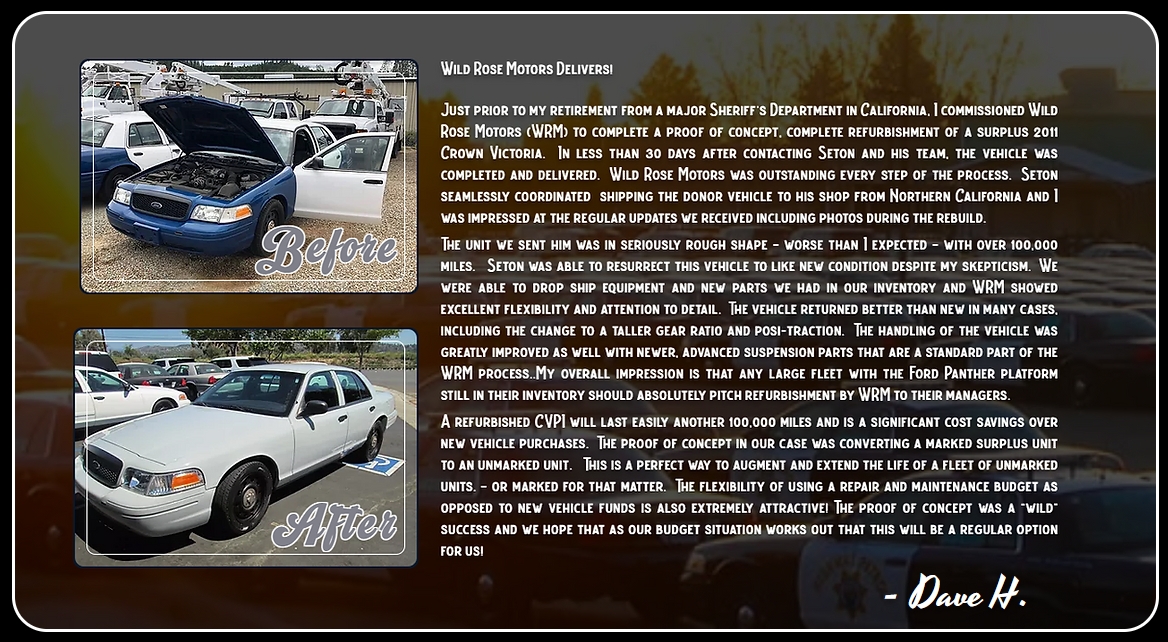 Straight Outta Canada Eh!!

Sean drove all the way from Canada just to have Wild Rose Motors give his car a Makeover. Thanks Sean you wont be disappointed!!
Keeping Teenagers safe on the road

Racheal Gillis came to us at Wild Rose Motors looking for a safe reliable vehicle for her teenage son Aron, as a family owned business that cares about family we were more than happy to help them both find the perfect car, we customized the paint job added push bars and much more just to Aron's liking, and mom loves the fact that he will be safe behind the wheel of a Crown Victoria P71.
| | |
| --- | --- |
| | Customer Jon Constatine loved his Crown Victoria so much that he had a custom license plate frame made for his beauty. |
Pinole PD very Happy with their refurbished CVPI

Chief Neil Gang of Pinole Police Department personally visited us here at Wild Rose to pick up one of their newly refurbished Crown Victorias. It is nice to meet a very forward thinking chief saving money by renewing his fleet while working with shrinking budgets.
Kent and Zeus need a new ride!

Helping our favorite search and rescue K-9 zeus stay mobile. Kent decided that Zeus needed some more room. With a 1000 lb capacity in the trunk all of Kent's gear can fit with room to spare. Congrats to newly certified Zeus the rescue dog.
Phoenix rises from the ashes.. of a burnt car

Justin's old car was in a fire on the freeway. He needs to drive all over southern California for work so he was in a bind. Without hesitation, Seton and the Wild Rose team put Justin in the safest, strongest and most reliable vehicle on the road.
Michelle Davidson Loving the CNG life.

Seton, I wanted to write and thank you for giving me such a great deal on my natural gas car! I have a long commute-about 100 miles a day- and I was spending a good $500 a month on gas. With my natural gas car, I only spend about $150 a month.....what a wonderful difference! Plus, I feel safe knowing my car is made of stronger material and is heavier than most current cars; I get to go into the car pool lane, and it is a V8 so my car is very powerful. I love that I did not have to go into debt to purchase my car also, thanks to your great deals!
Best,
Michelle D.
Ahaheim,CA

Mark Ferrell

Mark came to us looking for the safest car on the market. With a baby on the way, Mark needed a strong full framed car. The Wild Rose team found the perfect 2011 Crown Victoria along with a new paint job.
WildRose replacing vehicles for CA fire victims

We've been able to help out fire victims replace their vehicles. Even with a lower insurance payout we can replace vehicles. With the latest vehicle we supplied, our customer was not feeling well and we were even able to deliver the vehicle to his door and saw the burn area first hand. Call us with your budget we would be happy to help you out.
Testimonial - Lending a helping hand
My name is Scott
I called you a short while ago after viewing your website. I was looking for some information about doing an engine swap from my truck ( a 2001 Ford F150 4.6 Romeo motor) with an 2007 4.6 Romeo interceptor motor. You graciously and patiently gave me your time and passed your knowledge along to help me in my endeavor. You made me realize that swapping one 4.6 l motor for another could be a little tricky.
I will happily pass the good word about you and your company along.
Any help you may be able to offer about swapping out my 4.6l motor with another would be greatly appreciated.

Scott
REVIEW..P71 vs Charger: First round KO by CVPI


After getting ''Steve'' (the name my daughters gave the car) washed, I noticed marks from the OCTA stickers that had previously been on the car. I gave a good friend, who is an OC Airport/Transit Authority Office, a call and mentioned it to him. He laughed and said maybe it was one of his old cars. He went on to tell me about how great the CVPI's are, how well they perform and how much safer they are than other cars. He told me about an accident two officers were involved in with a brand new CVPI. They were t-boned in an intersection by a car going approximately 60 mph that ran a red light. Both officers walked away from the crash with only minor injuries. He told me that he's sorry to see Ford discontinue the CVPI. He said the Dodge Chargers, while fast, are not holding up to service duty requirements and they are too small for most officer's comfort. So, you picked the right product!

I am seriously considering buying another, newer, lower mileage CVPI for myself before they halt production in 2011.

~ Robert Carruth

Happy Customer Gregg Zechiel Wants to Spread Good News and Recommends Us for Service and Increasing Ground Clearance on Vehicles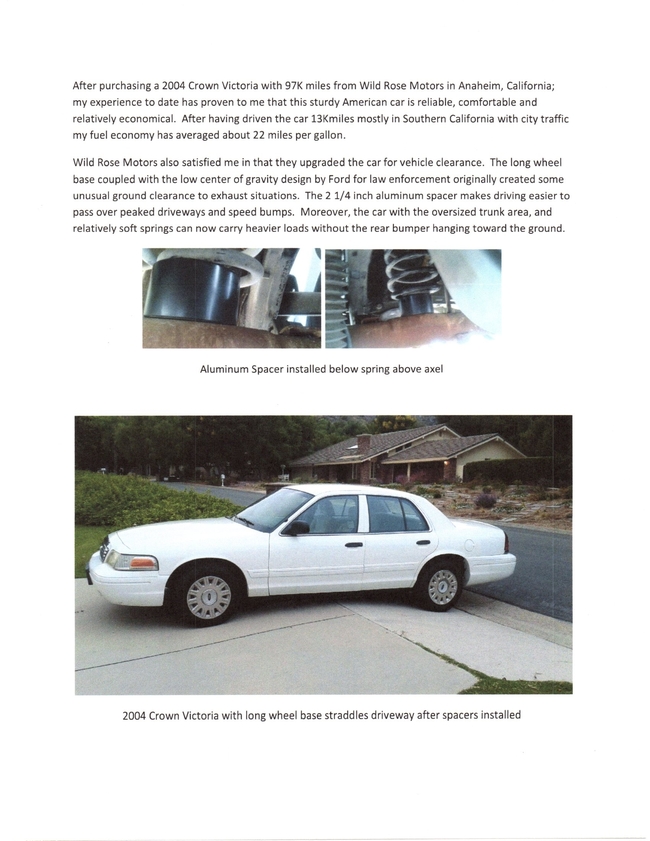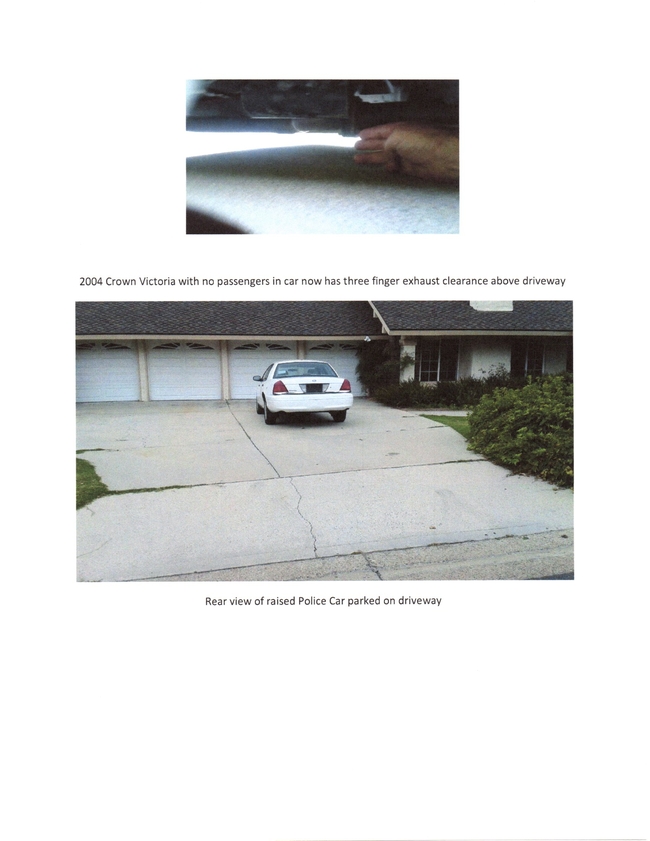 Helping our Local Schools

Thank you for your follow-up inquiry regarding the Ford Police Interceptor we recently purchased from you. As specified in our purchase agreement, the car was completely repainted and had a piece of door trim replaced. Upon delivery, all work had been completed to our satisfaction allowing us to immediately put the car into service. This car is driven 70 or more miles per day five days per week and we continue to be highly satisfied with it. I also appreciate your willingness to work with us to accommodate our purchasing process.

Mike Pollok
Director of Student and Community Services
Orange Unified School District
P71's for campus security

To whom it may concern:

Recently Fresno Pacific University Campus Safety purchased a 2009 Ford Crown Victoria from Seton at Wil Rose Motors. Seton was very easy to work with and gave our Department a great patrol vehicle that our officers will take pride in driving. Seton gave me many options to choose from and was able to give of a great vehicle within our budget. The patrol vehicle that fit our budget was black and white but for our Department of vehicles are all white. Seton went ahead and had the vehicle painted for us and we were still able to stay within our budget. Through the whole process Seton kept me informed regarding the status of the vehicle and made it the easiest vehicle purchasing process I have ever experienced.

Corporal Andrew J. Rodriguez
Fresno Pacific University
Dept. of Campus Safety
Greg from South District Patrol

5.0 star rating 6/24/2015
These guys are the real deal. I own a patrol company and have put my fleet services and vehicle purchases in their hands. Very courteous and easy to deal with. Great selection of cars for every budget.
Testimonial from Justin Lueras

"I have always wanted a Crown Victoria Interceptor for as long as i could remember. After stumbling across Wild Roses website, i knew they would have the car for me and after my second visit i was walking out with my dream car! Seton and his team were very knowledgeable and helpful with details and questions i had. The buying process was simple and painless, they installed everything that i requested and even fixed my side spotlight a week later. If you are looking for a CVPI, Wild Rose is the place to go!"

Google Plus review
| | | | |
| --- | --- | --- | --- |
| Calvary Chapel Costa Mesa | Ford Crown Victoria P71 | PA System | CCCM Campus |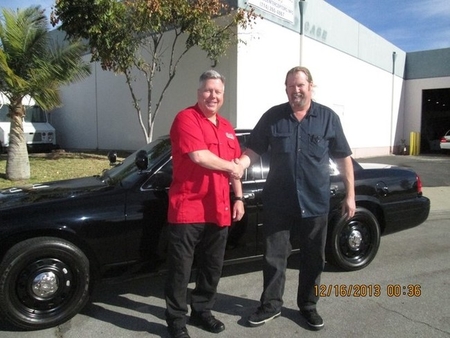 Ben Holstein's Google Review

I had a great experience buying a sweet CNG Crown Vic. Seton is super knowledgeable and an all around good guy. If you're in the market for a Crown Vic, do yourself a favor and see what they have to offer.
Lorna Hudson's story

Lorna Hudson just purchased her second Crown Victoria Police Interceptor from us. Her first Crown Victoria saved her life. Her and her son were in a horrible accident and both walked away from the accident due to the safety of driving a Crown Victoria.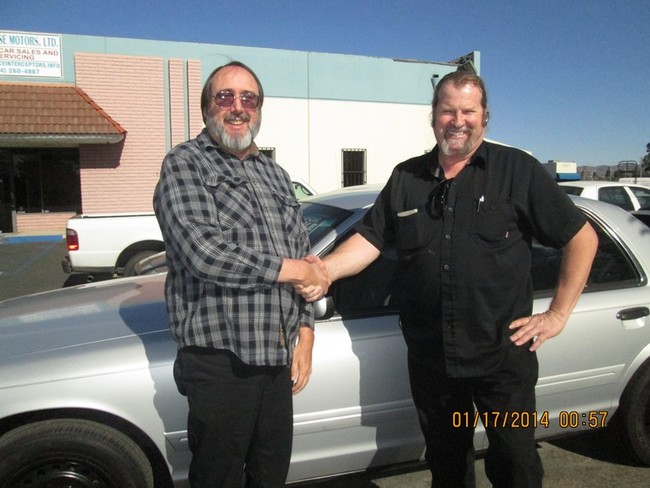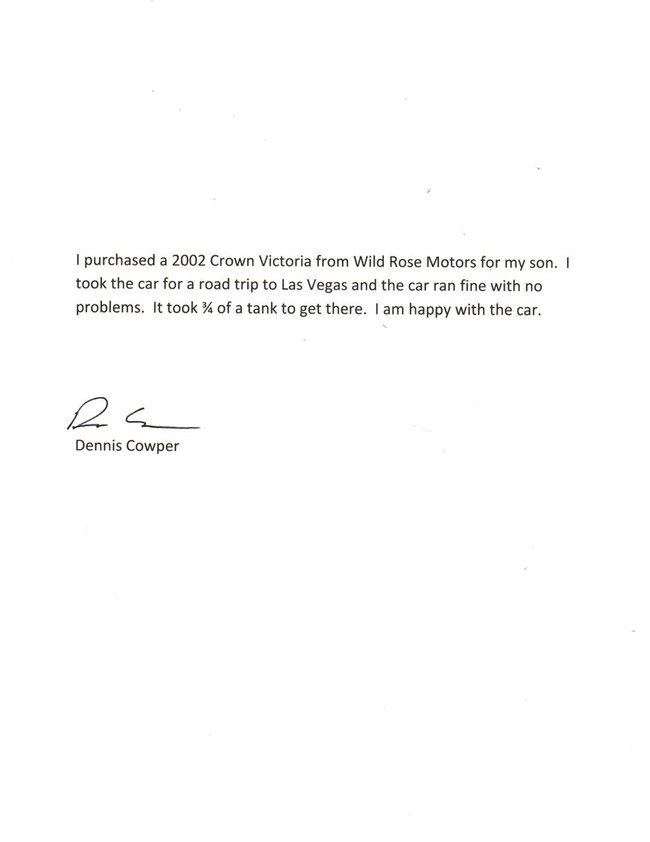 USMC means U Signed for a Mighty Car ..this time.

Policeinterceptors.info is great! I recently bought a 1995 Chevy Impala and I couldn't be happier. I recommend that all my fellow devil dogs do business with them. They appreciate us, and it shows!

Tristen Joyner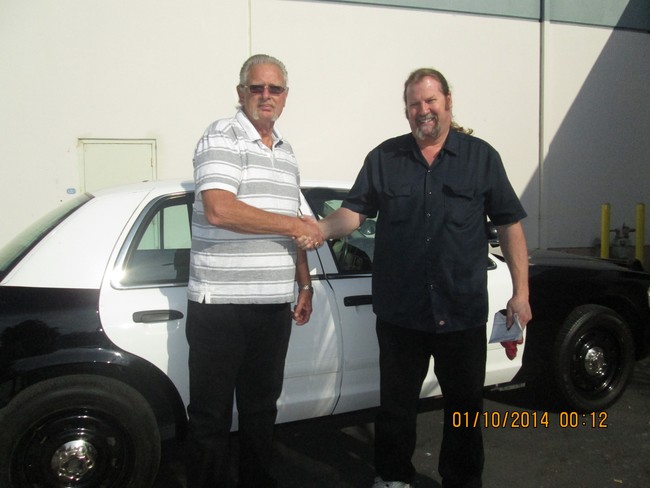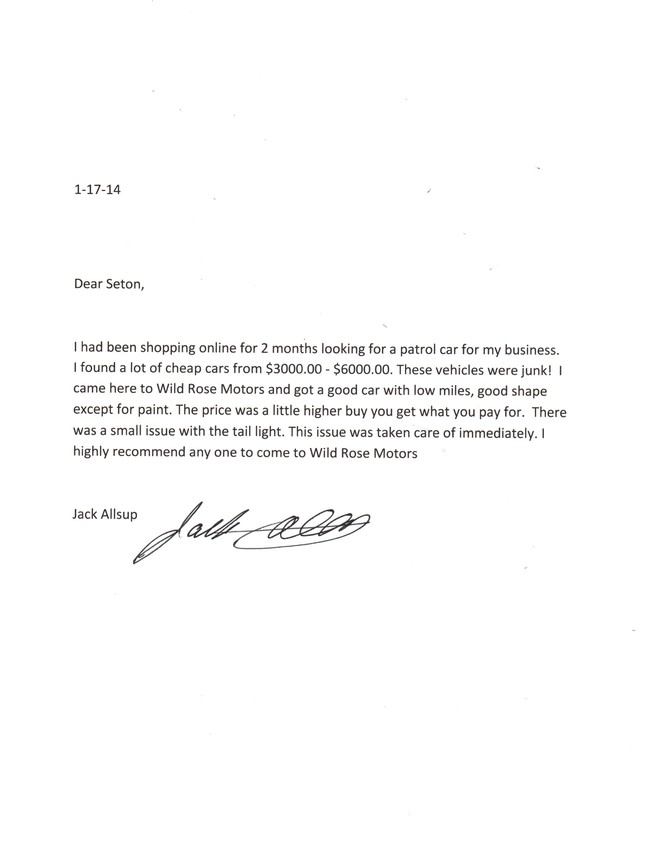 P71 for an Army of One!

Another Happy Customer!!!
To Steve,

Words cannot express how much you have helped me and made it so easy to purchase a Crown Vic from you. Before I found your website, I have been searching for a P71 Police Interceptor for quite some time, because of the strenuous driving that I do everyday. I had heard that these vehicle?s were very heavy duty and can withstand the pounding of long distance everyday driving. Once I found your website I was stoked because for one, I actually knew the area your lot was located and after looking at your inventory, you had exactly what I was looking for. After talking with you on the phone, I had to see this vehicle for myself. Once I stepped onto your lot and spoke with you, I felt like I was at home. Most car dealerships make you uneasy and I never felt that way with you at all. You went through step-by-step on everything about the vehicle I wanted to purchase and after seeing your office with all the business cards and pictures, I felt that not just regular people, but business company?s and even law enforcement agencies trust your work. I was hooked and had to get the vehicle. But, I also had a few setbacks that were hindering me from getting the vehicle and after explaining my situation, you helped me get financed and into the driver seat of a great vehicle. No hassle whatsoever! I can?t thank you enough. Also, I am currently serving in the United States Military and to all my fellow veterans, if you want a safe, rough and tough, and reliable vehicle, this is the place to go. Besides personal use, it is ideal for military duty as well (hauling gear, hauling soldiers, etc?). Once again Steve, Thank you for everything.


SGT Joseph White
Squad Leader, Aco 1/160th INF
Fullerton, CA
Cadre, Sunburst Youth Academy
Joint Forces Training Base
Los Alamitos, CA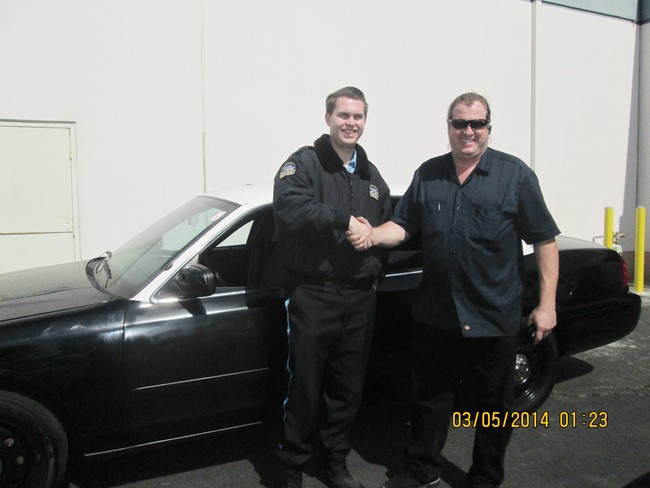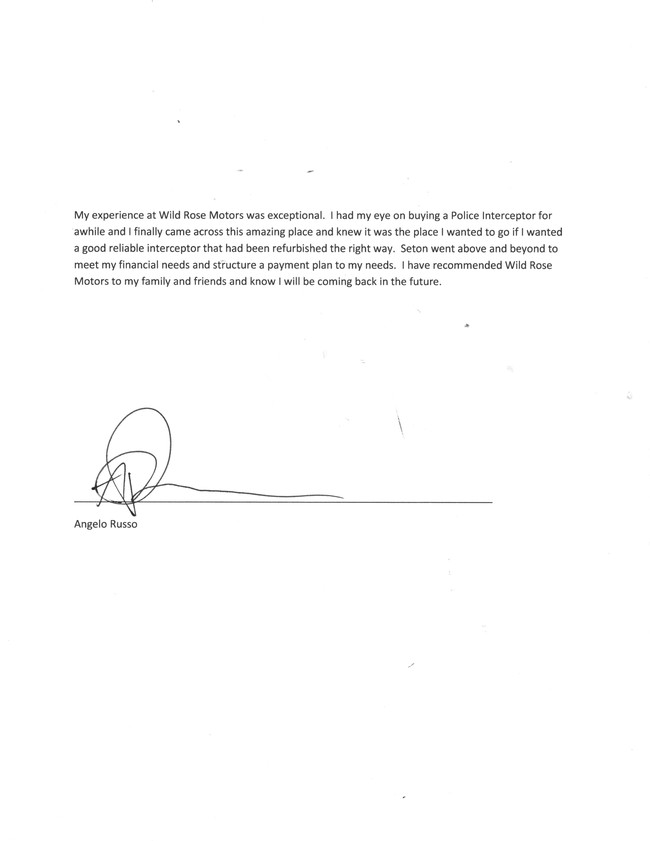 David Lalimar putting his P71 to work!

Seton & his staff at Wild Rose Motors are the best in the biz! I was looking for a unique, cool & safe car to be my everyday vehicle. After researching for weeks, I came across Wild Rose Motors and I found exactly what I was looking for. My 07' Crown Victoria PVI is everything I needed and more. As a working actor I also wanted to have a car to rent out for film/tv work. I have a feeling my Police interceptor will not let me down! Wild Rose Motors is your one-stop shop for the baddest, safest, & most reliable cars this side of the Mississippi.
Thank you Seton & company!!!

Jeremy on the scene!

I purchased my 05 Crown Vic from Wild Rose Motors in November 2009. I shoot video for the news at night and needed both a good reliable vehicle and a stealthy car to blend in and able to hold all my cameras, radios, and equipment.
I emailed Seton and he called the next day informing me of his financing options. I made a trip to the lot and picked out the right Crown Vic for me and test drove it, I fell in love with it immediately! Seton and Deana were nothing but friendly and easy to work with. My whole experience with them was wonderful and hassle free! I felt like I was working with friends that really care about the customer and their needs. You guys are great and that Crown Vic helped me countless times with where I need to go safely and in a hurry! (Not to mention I never have panhandlers harassing me for change at the gas station they were always turning around when I pull up!)
I plan on purchasing another Crown Vic shortly from Wild Rose Motors and would recommend them to ANYONE!!! I never had a single problem with that vehicle and Seton is a very good person I consider a friend!

See you guys soon for another purchase!

Jeremy - OnScene.tv

Getting Jeff to class on time

My name is Jeff. When my last car was about to break down at any moment, I needed a reliable car in a hurry. Since I'm a student, I need something that will run well, and last a while. After going to so many different pre-owned car lots and searching 'sale-by-owner' ads, (literally looking at hundreds of cars) I finally visited Wild Rose Motors and met with Steve. Steve appraised my trade in and set me up with a 1993 Crown Victoria in immaculate condition. After all the cars I had looked at up until then, NO car was in as good a shape. The car still runs like a champ, and my only regret is not having gone to Wild Rose Motors first, it would have saved me SO much time and stress. I cannot speak highly enough about Steve's friendliness, attentiveness, and integrity. I would recommend that anyone buy a car from Wild Rose Motors, and I know that when it comes time for me to get another car, I will without a doubt be buying another vehicle from Steve.

Jeff White,
Student
1993 Crown Victoria Police Interceptor
| | |
| --- | --- |
| Before the Accident | Before the Accident |
STOCK #4553

Pre-Accident Photos - ABOVE

Purchased by Sherry


I purchased a 2003 Crown Vic in December of 2010 from Wild Rose Motors.

My decision to do so was based on couple of things; #1 was price and #2 safety.

Steve advised me when I purchased the car that the Crown Victoria?s are crash tested at 75 MPH because they are used by the government. Every other vehicle out there used by the general public, new or used, is tested at 25-40 MPH (I checked this out to be true).So I found this to be a great safety advantage for me. I?m not a great driver. I?ve been in a quite a few wrecks over the years, and have been through a lot of cars, and involved in a lot of accidents, with them increasing rapidly in the past 2 years. My family urged me to buy a safe car? so I did.

This purchase was the Best Choice I ever made! I was involved in an accident 3 weeks after I purchased the vehicle.

I was 1 out of 4 vehicles. The one thing I can tell you is I was practically the only one that walked away without injury. This Car is Solid!!!!! The Crown Vic WITHOUT A DOUBT saved me major injury or quite possibly even may have saved my life. If I would have been in a compact car, I would have definitely been taken away in an ambulance as some of the others were.

Once I get my insurance money for the car, I will be purchasing another Crown Victoria!

Thanks Steve !!!

Sherry



STOCK #4553

Accident Photos - BELOW

Scared/Shaken/Unscathed Sherry
Happy Crown Victoria Customer
| | | |
| --- | --- | --- |
| Post Accident | Post Accident | Post Accident |
Dear Seton: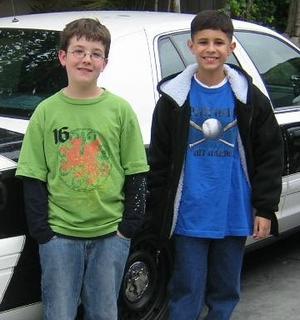 I want to thank you again for getting me into my Ford Crown Victoria Police Interceptor. Dealing with you was a tremendous pleasure and my family and I thoroughly enjoyed the entire process of selecting a CVPI from your inventory, making the deal, and driving the car away. You took the time to explain everything about the car, its history, and the benefits of owning a Police Interceptor, and made the procurement of this vehicle a true pleasure.
My two young sons and daughter think this car is the coolest car they have ever ridden in, and I must admit, I feel the same way about it. But more importantly, the safety of this vehicle is obviously beyond compare. It has such a smooth ride it's hard to believe that it has so much added protection and all the other additions that you pointed out that make it so safe. I know when I have my family in this Crown Vic, we are in the safest vehicle on the road.
I have included with this letter a picture of my two sons, Ben and Jack standing with the Crown Vic. They are just two of the many reasons why I took your advice and put my family into the safest vehicle available.

Many thanks, Seton, your professionalism and dedication to spreading the word about the safety of these cars is truly genuine and I hope it takes you a long way in this world.

Respectfully,
Kevin Crites
General contractor
Victor M. Review
This past Spring, after searching the country for a Police Interceptor that met my expectations, I found a 2003 Ford P71 at Wild Rose Motors that was everything I hoped for. I was so impressed with the deal and the after-sale service, I wrote a testimony to my experience with Steve Montgomery and his crew. My name is Victor, but if you?ve read the testimonials written for Wild Rose Motors, you may know me better as 'Cynical Old Fart'.

A couple of months after buying the P71, I hit the road on a cross-country journey with more than 87,000 miles showing on the odometer. Although I had owned a Police Interceptor with mileage in the past, I had never travelled long distances in it. Until this trip, I didnt know what I had been missing. The P71s high performance suspension and front-end took to the asphalt with a sure-footedness and confidence that was a pleasure to experience.

Even under a very heavy load that forced the car to shift into passing gear for long periods when climbing mountains, the super-duty cooling system kept the powerful Interceptor V-8 running cool and smooth, never missing a beat for twelve hundred miles!

As satisfying as the Interceptors performance was, I have to admit that I also came to relish the public?s reaction to the car. Wherever I stopped, the P71 attracted admirers.

Within the first couple of months after arriving in Amarillo, Texas, where Im visiting family, I had five offers to sell the car, including one from a local constable. I enjoyed the compliments, but no other car I might buy would provide the safety, the performance, the reliability, the good looks, and the unique pride in ownership that a Ford Police Interceptor gives to those who drive them.

I owe so much of my satisfaction with this car, though, to my decision to buy from Wild Rose Motors. Steve Montgomery is a Police Interceptor enthusiast who hand picks only clean, dry, well-maintained units from Southern California agencies. He doesnt settle for less, and neither do I.

My P71 has recently sailed past 90,000 miles, just in time for the car and I to hit the highway on another cross-country adventure.

I will catch up with you down the road.

Victor M.
Louie Mungaray Google Review

Wild Rose Motors is a first class operation. Seton and his crew went above and beyond in making ready a 2005 Crown Victoria Police Interceptor black and white as a daily driver for my sister. She was in a serious roll-over collision and she was more than a little spooked about getting back on the road. Once she heard about all safety features these cars she was ready to go. The car rides and drives great and Seton gave me a great deal on a beautiful Norsea Blue paint job. I would definitely recommend them to my friends and buy another CVPI from them if the need arose. Thanks Seton! Louie Mungaray's Google Review
Irv Steinman Google Review

I contacted Steven after the Police Interceptor we had purchased at an auction lot to take our loveable 90# - 2 Year Old Golden Retriever was in an accident and was totaled. I decided to get another one and as it was perfect for our dog as he could roam from the front to the back with ease. Steven was very helpful on the phone and even though we live in West LA, we decided to drive to Wild Rose Motors in Anaheim. Steven showed us several cars and there was one in particular we liked, a 2003 Ford Crown Victoria Police Interceptor that evidently was a Captains vehicle, as it was a fully equipped car and extremely well kept, It was in a Brownish Green Color with Full Velour Seats and seats 6, We made a deal on the car and took it that day. However, it needed new shocks and brakes and we decided to do a Lube and Oil Change and Tune it up as well. The price Steven and Wild Rose Motors Charged for the entire job was well below other garages I had checked with and it was worth the drive from West LA to Anaheim to get the work done and it was done in a very workman like manner, and as I mentioned the price was unbeatable. The car runs fantastic and looks like a brand new car, it has spot lights and the heavy metal push bar. I highly recommend Wild Rose Motors for anyone looking to purchase a used Police Interceptor. Sincerely, Irv Steinman (Google Review)
Journey to the Petrified Forest!

I wanted to take the time to thank you and your staff for such an easy vehicle purchase. I had to purchase a used patrol vehicle on short notice due to one of my officers rolling his vehicle during a snow storm. We are a small department and budgets are tight, the only money I had to purchase a vehicle was the insurance payment on the wrecked vehicle. I found your site on the internet and there was one particular vehicle that caught my interest. I phoned and was advised that the vehicle was still available. Thanks to you, I was able to purchase a 2001 Police Interceptor with very low miles on it for less than what I got from the insurance company. You worked with me on the shipping and we were able to come to a quick deal that satisfied both parties. I want you to know that if and when I need any other vehicles I will contact you first and see what you have. I would recommend your company to any other police departments. I also want to thank your staff that put the paperwork together, I was able to easily go through it and get the vehicle license and titled with no problems. Again thanks for the great professional service you and your staff provided to this department.

Springerville Police Department
http://www.springervilleaz.gov/public_safety-police.htm
Excellent Car for Excellent Farms
Happy customers from the Monarch Nut Company! They picked up a 2006 Ford Crown Victoria Police Interceptor!
Kristen Derby

Kristin Derby was so excited to get into her new Crown Victoria Police Interceptor because of the safety and the room in the vehicle. Kristin Derby and her friends love her new Crown Victoria. See you on the road.
75 MPH Crash Test comes in real handy!

Hi!

My name is Eric, I purchased a CVPI from Steve in June 2012 and words can't really describe how happy I am with my car.

I was recently in a 3-car accident where the other two cars were completely destroyed, and the only damage I received was two cracked lenses on my reverse lights. I feel comfortable knowing that wherever I am, I can rely on my Crown Victoria to be safe and get me home no matter what.

I even got a hundred bucks for referring a friend. If you are looking for the best car on the road, buy a CVPI. If you want the best Police Interceptors, go to Steve, he won?t let you down.



Cruise Controlling down the Road!
Friday, May 11-2012

Hi Seton and crew,

2006 Ford CVPI Black, 4.6L V8

Well... I have finally broken the 25.5 MPG mark and recently got 26.1 on a trip to Utah.

I now have put over 4,000 miles on this vehicle.

It was amazing to me how such a large car with all the horsepower could get such great fuel mileage on the highway.

This car has proven to be very comfortable on long trips especially now that I have factory cruise control which only requires the addition of just one item: a factory steering wheel with switches and then to get Ford to update the stock programming to show a cruise control installed to the ECM.

I would highly recommend this upgrade for the 2006 and up, vehicle since it was so easy which is probably due in part to the factory "Fly-By-Wire" throttle available from mid-2005 on up. So far I am happy to have purchased this vehicle from you and am looking forward to doing further business with you and your great staff in the future.

Sincerely,


Morgan Langley
Getting Doc safely into the carpool lane.
I called Wild Rose Motors looking for a CNG car that I could drive in the car pool lane. I commute long distance to Orange County on a daily basis, and the kind of car that suits my needs as a long distance commuter and a doctor is hard to find. Seton Montgomery answers his own phone calls and provides personal attention to every customer. I told Mr. Montgomery that I was looking for a very reliable safe and clean vehicle that would be appropriate for my needs. A few weeks later, I got a callback and Mr. Montgomery had found just what I was looking for. The car has performed splendidly with only a couple of minor issues that should be expected with a used car. When I informed Mr. Montgomery about these issues, he took care of them promptly free of charge. Such customer service is an absolute rarity these days and I found it very refreshing that there are people that still care about their customers and stand behind their products fully. If you are looking for a CNG car that you can drive in the carpool lane safely you can't go wrong with Wild Rose Motors. You will not only get what you are looking for but will also get that small town family business service that makes it all worth while. I could not be more satisfied with Wild Rose Motors.


Gregory Rafijah, MD
Police Fleet Manager Magazine

Located in Fullerton(now Anaheim), CA, Wild Rose Motors is a supplier of retired police interceptors. Wild Rose purchases only the best police vehicles; it services them, details them, and fits them to meet customers specific needs. Clients include the FBI, Ranger Departments, Probation Departments, Police Departments, Security and Fire Companies, as well as the general public. Wild Rose sells Ford Crown Victorias, Chevrolet SS Impalas and Chevrolet Caprices. All vehicle selections and services are done in house with 25 years of experience. General Manager Seton Montgomerie talked to PFM about Wild Roses services.

Once a car arrives at Wild Rose Motors, it goes through a full-service mechanical inspection. Montgomerie said he replaces anything that could fail or is nearing its end of life, including hoses, oil ring seals, radiators, or anything for preventative maintenance. The company always changes the engine oil and filter and uses only premium quality products, such as Valvoline VRI, a racing-grade oil, and Mobil 1 Synthetic for transmissions. Rebuilt engines and transmissions are installed if the vehicle has a mechanical defect or if the customer requests it.

Additional services include checking the spark plugs, wires, air filter; throttle body plate intake and cleaning; engine and transmission mounts checked and/or replaced; transmission service; filter and gasket change and inspection; refills with high-quality Dextron3 fluid; replace exhaust mounts; limited slip rear-end fluid replacement as required. Brake service includes a pad replacement and flush, plus diagnostic checks on all systems.

The most important aspect of the Crown Victorias is the high-speed interceptor package containing a high-performance engine, twin cam, multi-point injected V-8, a high-performance computer, a 120-amp heavy-duty alternator, a heavy-duty water pump, an external, aircraft-quality engine, two transmission coolers, a double-fan radiator cooling system and a heavy-duty radiator. In addition, theres a heavy-duty, four-speed electronic transmission and an extra capacity transmission, limited slip high-ratio rear end, and super-duty ABS four-wheel disc brakes.

Wild Roses Chevy SS Impalas and Caprices are equipped with the high-speed performance Corvette engine 5.7 liter, multi-point injector V-8 or V-6, a high-performance computer, a 120-amp heavy-duty alternator, a heavy-duty water pump, an external engine cooler, two transmission coolers, a double-fan radiator cooling system and a heavy-duty radiator.

These vehicles also have a 700R heavy-duty Corvette transmissions; limited slip high-ratio rear end; super-duty ABS four-wheel disc brakes; heavy-duty high performance, ventilated rims that are 1 inch wider than standard; Goodyear Eagle RSA 225-70, Z-rated tires; super-duty good-performance suspension package; front and rear sway bars with heavy-duty suspension bushings; heavy-duty shocks and springs; and high-performance twin tuned exhaust. Safety features include high-impact-reinforced impact bars, drive shaft and universals.

Wild Rose contracts out to a paint shop for repainting two-tone police cars to solid colors, or per customers requests. All cars are sanitized in addition to being cleaned and detailed. Carpet and upholstery are replaced as needed, so the car is as close to new as the customer?s budget allows.

The majority of Wild Roses vehicles are from California. Montgomerie calls West Coast cars ?superior? due to the good weather and roads in that region of the country. He went on to say that a 5-year-old car in New York has had its life, whereas a car the same age in California might have many more good years left. That's why Wild Rose does not deal with out-of-state vehicles, again due to potential problems such as corrosion.

Montgomerie said legislation in California is strict, so he hand-picks every vehicle to ensure that he gets the best vehicle possible. He has wor
From:Mark Farley
CalArts Campus Safety Supervisor
Re:Crown Victoria Police Cruiser

Just wanted to drop you a line to let you know how much we like the Police Cruiser we purchased from you. This vehicle has been an outstanding addition to our department. It's an excellent vehicle, in outstanding condition.
It was truly a pleasure working with you. I appreciate your professionalism and fair pricing. I wish you all the best in your endeavors and look forward to doing business with you in the future.
Cars that work as hard as Realtors

I bought a 2003 Ford Police Interceptor from Wild Rose Motors a few months ago and I just wanted to share my experience with everyone. I'm in the Real Estate and Financial Services industry so I put a lot of miles on my personal cars so I decided to go buy a Police Interceptor because I've heard a lot of good things about this car. Now the hard part, Finding a place to purchase the car at. First I searched the Internet there was a lot of them on there but I wanted to see the car in person so I searched for a dealership in my area and I came across www.policeinterceptors.info and I decided to call to see if I can set up a test drive. That's when I met Steve and test drove the car. Right after the test drive I purchased the car from him because of two things first thing that made me purchase the car was the cars that Steve gets are in great condition. It drives great and the bodies in good condition too. Second and most important was Steve he wasn't pushy and anything I asked him about the car he answered it honestly. After we closed the deal I noticed a few minor problems with the car and Steve took notes of it and fixed it for me before I picked up the car. As promised !! Then I asked him to paint it for me and when it came back we had some problem with the paint on the roof (not Steve's fault the body shops mistake) So I told Steve I would bring it back on a later date. So 2 months gone by and I didn't have time to drop the car off and one day I got a call from Steve. He wanted to know when I wanted to bring the car back so he could take care of the paint problem. I was completely shocked that he actually remembered about my car. Is that great customer service or what? When I buy a Police Interceptor again it will be from Steve. Thanks again Steve!

Sincerely,
BING LEE
Prudential Financial &
Meridian Real Estate
Website: www.Bing4Homes.com
Phone: (626) 705-9232
Fax: (626) 588-2212
Devan Bowers Review
Right off the bat I have to say that seeing this many wonderful testimonials and having my own wonderful experience as well really says something about what the family and friends over at Wild Rose do for their customers. From beginning to end there wasn't a moment that I wasn't treated kindly and with wholehearted respect. I was greeted with a kind smile and helping hand and we all even shared a few laughs while going through the rest of the process. I'd have to say that not just in buying a car, but as an experience, in general, I was so glad and am still very excited that I've been able to be a part of that wonderful moment. I look forward to sharing more time and laughs with my friends over at Wild Rose and if you or any of your friends are looking for a true personal, fun experience as well as quality service and vehicles, there is no where else I would rather recommend. Thank you again to everyone who made my experience memorable and I look forward to seeing you all soon!

Cheers,

Devan Bowers
Alex Joya Review
Third time's the charm!

"What I liked about Wild Rose Motors is the service and genuine people who work there. This was the third car I purchased from a dealership, the first two dealerships never came close to the honesty and customer service that Wild Rose Motors gave me, third time was the charm! The quality and selection of the vehicles was great, they had more than enough cars that fit my budget and my needs. Thanks to Steve for being such a genuine and patient person and answering the hundreds of questions I had."

Alex Joya
Jamie A. Review
I have wanted to drive everywhere since I bought this car from you guys. Seton, you really outdid yourself on this deal. The experience of the purchase was unlike any other car buying experience I have ever had. I am already looking forward to the next cruiser that I get from you. This car has it all and is more than I had expected. That, and the comfort of knowing its a quality vehicle that will last me for a long time. Thank you for your candor and honesty. I recommend to anyone looking for a great used police interceptor to visit you first. Thank you again!

-Jamie A.
Matt Bernhardt Review
Wild Rose Motors is the best place to start your search for a P71 Interceptor. Steve is one of the friendliest guys I have ever met. He is extremely knowledgeable when it comes to these cars. If you need anything he will help you out. Steve isn't like other salesmen. There is absolutely no pressure like at other dealerships. He is very kind and lets you browse and test drive whatever P71 catches your eye.; If you are in the market for a CVPI, you MUST stop by Wild Rose Motors, you won't regret it!

Thanks again Steve

- Matt Bernhardt
Troy Harris's Dad was right!
I am looking for an interceptor because my Dad is a retired L.A. County Sheriffs Officer and he told me that they are the best car for a first car. They are extremely well taken care of and really safe. I would like info on this car and any others you have. I need a car desperately and this is where my Dad told me to look.

- Troy Harris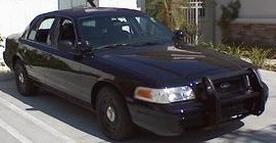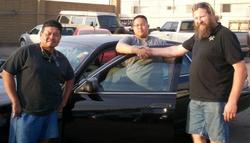 Dear PoliceInterceptors.info / Wild Rose Motors,
My name is Ian and purchased a 2003 "Jet Black"? CVPI from you guys. Firstly, let me say that you guys are amazing in every way. Let me describe my experience: When I first arrived, I was greeted by Steve. Now, I was expecting him to be just like most car salesmen, very pushy and impatient but, as I found out, that wasn't him. He was very friendly and made the car buying process a lot more relaxing. So friendly and relaxed that he let me take the car for a test drive and he wasn't even in the car and after I had purchased the car he replaced the pushbar that came with it for free!!
Let me stress that young drivers, like myself, are driving cars harder and faster than ever and, as a result, teen driving fatalities are rising. Teens nowadays settle for cars that are cheap and most times unsafe. Well, the CVPI is extremely safe. So safe that it was given a 5 star crash test rating and tested to withstand rear end crashes at speeds in excess of 75mph. No other car is tested to that standard!!!(See the link at the end of this letter if you don't believe me.) IS this kind of top notch safety that saves lives. Now I don't condone reckless driving like speeding or racing but it's always good to have a high level of safety when driving, legally.
In conclusion, Wild Rose Motors is the best choice for young people looking for a Police Interceptor. Their service and commitment to their customers rivals that of other "big name"? car dealerships. Not to mention that they sell safe, reliable and fast cars.
Ian C.



Wild Rose Motors is the best! I looked around at many different dealerships trying to find a good, safe quality car at a price that would fit within my budget. My search for the perfect car led me straight to the wonderful world of Wild Rose Motors, home of the best cars, and ever better people. Steve, the owner, was fabulous, he took time with me showing me every car within my budget and taking me on more than one test drive. These cars are so great, I found the perfect one for my family; the kids love it! The cars are so fun to drive, and most of all super safe. Once Steve started telling me all about the safety features of these cars I was definitely sold; my family's safety comes first. So take it from a very satisfied customer, if you want a great car with safety being a top priority for your family, you definitely need to come down and see my new best friend Steve at Wild Rose Motors!

-Lindsey
It's nice to know that in this day and age there are still people in the world that are still willing to help the little guy. Someone once told me that you get back what you dish out times ten. I can say with confidence that Seton will have a long and prosperous life because of the things he has done in his lifetime up to this point. Thank you Steve and I hope to do more business with wild rose motors in the future.
Russell Coleman.
Sent from my Blackberry by Boost Mobile


When my piece of Junk Ford Escort finally died for the last time I was in the market for a car. My thought at the time was "anything but another Ford" When I was making the rounds a friend of mine recommended Wild Rose Motors to me, I had seen his Crown Vic before, and growing up with a parent in law enforcement I was used to the vehicle. So I decided to check it out.
I went down to Fullerton, which is about an hour and a half drive from where I live in the high desert. Walking into the place for the first time it was not what I expected. It was small with about a dozen cars in the lot and the office was a trailer customized with fish tanks and all sorts of interesting pictures. And to be honest I liked it! I never cared for sterile environments and commercial lots. This place had personality and care to it. Not big business drivel.
Then I meet Steve. Right of the bat he was friendly and straight forward and took me around the lot to check out the cars. He had answers to all my questions and there was the car I wanted in the lot. A black Crown Vic with only 46k on it for about 10k. The test drive was heavenly. It was about time I drove something with power behind it. Not to mention it was roomy as all get out. I was sold on it. All that was left was to talk cash.
I don't have a high income job but I make enough to finance a car. Problem was that me being a first time buyer with no previous credit, no one would give me a loan. That's where Steve shined again. I am currently financing through Wild Rose Motors until I build up enough credit to transfer the loan to a bank. With that decided, Steve took care of the small details like the radio, dash panel and search lights, and I was off in my new car!
I've only had it a few months and but I have to say, so far I've been very happy with it. It handles great, Performs a road trip to San Diego like a drive to the store. Of course the city mileage leaves something to be desired with current gas prices. But that's to be expected with a high performance low maintenance car like the crown Vic. It does get great Highway mileage though. And I have yet to be in an accident with it, and I'm hoping I never will be, but if I do, I'm confident that I will be walking away from it relatively unscathed.
Bottom line, the Crown Vic is the exception to my Ford rule, and I can't think of a better guy to buy from then Steve. He's experienced, he's on top of things, he's informed, and he really cares. He'll look out for your best interest with these cars.
All in all, I recommend a Crown Victoria, and I recommend it from none other Than Steve at Wild Rose Motors in Fullerton.
See you on the road!
-David V.
Recently my Director asked me to purchase a previously-owned Crown Victoria Police Interceptor to be used as a technology test bed for the major world-class Aerospace Corporation that I work for in Raleigh, North Carolina. Having no experience in used police vehicles, I was aked to purchase the vehicle within one week from any source in the Western United States. I had been given a very tight deadline which will directly affect the success of our technology. Luckily I was able to quickly weed out the multitude of Interceptor vehicle sellers around the country, and contacted Seton Montgomerie at Wild Rose Motors.

Steve was a delight to talk to over the phone. If anything, he was amusing, as well as cordial, but professional. He made an otherwise stressful decision and process, very enjoyable. Since I knew nothing about police vehicles, it was his priority to understand what I needed, and asked me the right questions to narrow my eventual selection of a surprisingly clean and great running vehicle. Steve presented all of the Pro's & Con's with each type and model year of the Interceptors in stock; and this honesty was refreshing. But, most of all he also understood my critical deadline, and my desire to get the buyers, he clearly and methodically helped me deal with the inherently cumbersome purchasing bureaucracy of my three offices in California, Texas and North Carolina to produce the necessary documentation, approval and wiring of funds to complete the purchase and deliver our prized Crown Vic. Guess what, I drove off the Wild Rose Motor's lot with a really nice Interceptor in a couple of days. Amazing! I thought it couldn't be done!

After a few months of driving the vehicle between system integrators the car developed a slight misfire, and the ''Check Engine'' light was reared it's ugly head. At the moment we were demonstrating our technology to our customers using the Crown Vic, and we feared the problem with the vehicle would jeopardize our activities with our customer. Betwen meetings, I called Steven, and asked me to immediately bring the vehicle to his facility to be checked out. Steve selflessly rescheduled his other appointments to correct the problem in the vehicle and sent me on my way without missing a beat.

Thank you, Steve, for an enjoyable experience, and splendid customer service. Oh, and thanks for a really nice interceptor, too.

Regards,

I. Bragado
Senior Field Applications Engineer
''A rose is a rose,'' someone once said, but I guarantee you, that person never ran into Seton B. Montgomerie and the crew at Wild Rose Motors.
Normally, I am a cynical old fart and have been ever since Roy Rogers had his horse, Trigger, stuffed and mounted. So, when I contacted Wild Rose Motors in my search for a Crown Vic Interceptor, I was pretty sure I knew what to expect, but Steve- as Seton likes to be called- proceeded to blow away every one of those preconceived notions I had about the car-buying experience.
First of all, Steve and his crew don't just sell cars. These are true Police Interceptor enthusiasts. Not only do they know these special automobiles inside, out, and underneath, but they also seem to understand the nature of those individuals who drive them or want to drive them. Steve addressed my concerns even before I did. He knew exactly what I needed in a car, and more important, he knew exactly the kind of straight-forward, no-nonsense dealings I needed from the individual who sold me that car.
Finally, Steve went so far beyond my expectations in servicing and preparing the Interceptor I had chosen, I was left speechless- and let me tell you, that's a neat little trick that a lot of my friends would pay good money to learn!
I choose to drive Interceptors because the right Interceptor is strong, reliable, incredibly safe, and because- frankly- the cars exude the kind of attitude a fire-breathing dragon could admire.
If you think an Interceptor might be the car for you, then listen to this crabby old cynic; I've talked to dealers all over the country, but I bought my Interceptor from Steve Montgomerie and Wild Rose Motors. Call them, and find out why!

Victor M.


Hey Steve and the crew down at Wild Rose. Thanks again for the Crown Victoria, it's a great tool for my new business. I feel I made a good choice by buying this vehicle locally and really feel that I made a good choice buying it through Steve. Solid choices are important as well as fine tools of the trade are and what a great buy. Oh and thanks for the extra equipment, my computers will feel right at home. I would highly recommend anyone looking for a solid vehicle like the cars down at Wild Rose, you got to see Steve he will hook you up. Thanks again.

Danny Alvarado
Investigator